Welcome to Brainchecker,
"Fashion is very important. It is life-enhancing and, like everything that gives pleasure, it is worth doing well." – Vivienne Westwood
Today in this article we are going to discuss most important & best career for you i.e. Fashion Designing..! First we need to understand what exactly fashion Designing so let's start
Introduction
Fashion design is the applied art devoted to the designing of clothing and lifestyle accessories. This art is influenced by cultural and social attitudes and has evolved over time and place.
Fashion designing is one of the most lucrative, appealing, glamorous and exciting career options in today's world. If you have a penchant for creativity, style and originality, a career in fashion designing is the one tailor made for you. On one hand, the fashion industry satisfies both the creative fancies and the materialistic needs of the people. On the other hand, it promises glamour, fame, success and a high pay package to the talented people.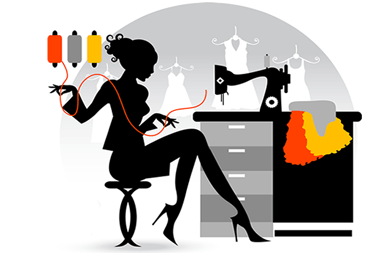 However, it is also a demanding career, as fashion designers need to combine their creativity with managerial skills to sustain in this industry. Thus, if you can create magic with colors, shapes and designs, then just obtain a professional course to begin a successful career in the alluring world of fashion designing.
Step-by-Step
To start a career as a fashion designer, two types of qualifications are required, that is, natural and acquired.
• Natural: this skill set would comprise of a decent aesthetic sense, color expertise, good taste and sense of trends and fashion. An eye for detail, knowledge of fabrics and so on is a big plus for those serious about a career as a fashion designer.
• Acquired skills would be a qualification from a decent, recognized fashion Institute. You can enroll for either a full-time course or a part time certificate course. Students usually take these up after their 10+2 level. Not that the courses are not available for graduates or people with higher qualification. There are several short-term certificate courses that are offered by the same fashion institutes for super specialization, on part-time basis. These courses equip you with technical and creative thinking skills.
Start Early
The word 'fashion' immediately conjures up images of glitz and glamour. The onset of the International fashion market in India has given an impetus to the fashion industry which has emerged as the booming industry and a career as a fashion designer is like a pot of gold. So, many young people who are attracted by these attributes decide to foray into the fashion industry
While the academic requirements are not very high, you need considerable aptitude and talent to be labelled "designer" material. You must be highly creative to combine colors, shades and textures and express your ideas through sketches.
Your race for admission into a reputed fashion school will begin straight after school. Subjects like drawing, painting, home science and computer graphics will develop your creativity.
By the time you finish the course you will have mastered the step-by-step making of a garment: from designing to pattern making, production and even marketing.
Is it the right career for me?
A career in fashion designing is right for you if you are talented and exude style in everything you do. You must also possess the ability be original and creative and love to make people look good.
Further, you must be creative enough to combine colours, shades and textures and express your ideas through sketches. You must also visualise new design, patters, garments and accessories and enjoy working with fabrics and accessories.
If you have all this and more in you then you are all, set to step into the arena of fashion designing.
There are over 4000+ Career options available today including in fields previously unheard of.
With Less than 10% students career consulting an expert before making a career choice, it does not come as a surprise that over 90% careers are chosen without understanding the child's caliber!
Let's not forget, Career is a Life time decision, let's choose wisely!
What would it Cost Me?
The fee structure varies from institution to institution. However, on an average you will have to dish out more than Rs. 45,000 per annum to complete a course in Fashion Designing from a reputed institution.
Funding/Scholarship
Some fashion academies extend merit based scholarships.  These scholarships usually waive off payment of tuition fee only. These waivers continue in the subsequent year(s) on the condition that the awardees academic performance meets the prescribed standards of achievement.
The criterion of these scholarship programmes is based on the annual income of the eligible student's parental annual income. There are a few scholarships sponsored by reputed companies for meritorious and financially deserving students. Scholarship awardees also get educational loan facility to cover other payable fee and expenses.
Job Prospect
In India, the fashion industry has just begun to come of age, as it is still in its fledgling stage. This industry offers plenty of opportunities for talented hard working and enthusiastic people. Prospects for fashion design graduates are pretty good thanks to the huge and still growing demand for "designer wear" and the equally outsized quantity of exports.
After successful completion of the course, you can remain self employed. Alternatively, several export houses, garment store chains, textile mills, leather companies, boutiques, fashion show organizers, jewellery houses and media houses recruit professionals interested in a career in fashion designing.
Pay Packet
The Starting monthly package can be around Rs.10, 000 to Rs.15, 000. With experience, you will acquire maturity in designing skills and a few years down the line your salary would be in the range of Rs.30, 000 to Rs.40, 000 per month. Of course, if you become a reputed designer you could demand the world.
Great fashion designers salary always shows an upward moving trend. However, hard work and a conscious effort to update the latest trends in the fashion industry are imperative.
Demand & Supply Chain
Economically India is progressing rapidly today with even better future prospects. Therefore, the country is today witnessing rapid growth in many sectors which includes the fashion industry.
Indian fashion is gaining a lot of popularity abroad because of cheap labour and excellent craftsmanship. Many top Indian designers are now catering to this growing international demand for quality fashion products and accessories. In addition, for the demand for Indian garments, designer saris and textiles are also of great demand.
Many individuals choose careers in fashion designing today as there are many areas of work and countless opportunities within this field.
Scope of Fashion Designing
The scope for fashion design jobs in India is immense as Indians have increasingly become more fashion conscious and seek to enhance it in every way. Clothing companies need to hire people in a variety of jobs, ranging from fashion designers, textile designers, models, retailers, buyers and merchandisers, to provide end-to-end solutions to their clients.
According to a recent study, the India's fashion designing industry aims to grow to Rs.1, 000 crores from the current to Rs.180 crores within the next 5 to 10 years.
International Focus
Better prospectus both in terms of salary and growth of fashion design jobs is enormous and extends beyond India's markets to international markets too. Indian fashion designers are doing very well in almost all countries and hence the scope has broadened for students of fashion designing.
Fashion designers such as Ritu Beri, Ritu Kumar, Rohit Bal, Satya Paul and Tarun Tahiliani are known worldwide. Many Institutions provide training to potential fashion designers to expand their talent and become entrepreneurs in the fashion world. The India Fashion Week has become an international fashion event, with buyers from international stores making an appearance to transact business.
With more and more Indians dressing up and focused on looking good, there is an increasing awareness about fashion in India. The Indian fashion industry is booming. The domestic Indian Textile market is worth $25 billion today and growing at an annual rate of 15-20%.
Mega Malls are mushrooming all over. The Retail sector is witnessing a virtual explosion with the Ambanis, Mittals, Birlas and now, the Tatas making a foray in this sector. The fashion market will require thousands of trained professionals in the fields of design, management, communication and technology.
Different roles, different names
As a professional fashion designer, you can work in areas like designer wear production, fashion marketing, planning and concept management. Then there is fashion media, design production management, fashion accessory design, quality control and promotion of brands.
You can also work as a designated costume designer, fashion consultant, personal stylist, technical designer, graphic designer, production pattern maker or a fashion coordinator.
Other roles include: apparel production manager, fabric buyer, fabric quality control manager, show room sales representative, illustrator, cutting assistant and outside sales representative. Those interested in a career in fashion designing can also become entrepreneurs and form their own companies.
Top Companies
Fashion houses run by top fashion designers such as: Abu Jani, JJ Valaya, Manish Malhotra, Neeta Lulla, Rina Dhaka, Ritu Beri, Ritu Kumar, Rohit Bal,  Sandeep Khosla, Tarun Tahiliani and so on.2. Top notch garment and textile export houses

3. Textile and fabric manufacturing units

4. Exclusive and branded fashion showrooms
we hope you find this article useful..!
if you have any suggestions about fashion designing comment below..!